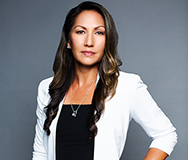 Lia Young Hunt: President & Chief Educational Officer
Lia has a lifetime experience in the aviation industry. From an early age, the airfield was her backyard while father Frank started an aircraft parts business called Goldwings Supply Service, Inc. She is a Baccalaureate graduate of Mid Pacific Institute and went on to Santa Clara University where she was a stand-out athlete leading the Broncos toward back to back championships in the West Coast Conference, earning honors all four years. Shortly after, she received her Aviation Maintenance Technician certificate and Private Pilot's license; then spent several years competing professionally on the AVP Beach Volleyball Tour. She returned to Goldwings and in 2007 served as Director of Operations and Strategic Development. In 2015, she was named President and Goldwings received our 8(a), SB, WOSB, HUBZone and DBE certifications. This same year, Goldwings was recognized as a finalist for Pacific Business News "Innovative Company of the Year". Lia's title of Chief Educational Officer reinforces our corporate culture, emphasizing education as a core asset.
Lia with her husband Ian, daughter Gisele and son Sage reside in Honolulu, Hawaii and spend nearly every weekend in the ocean. She continues to serve the community by training beach volleyball players and is a board member of the University of Hawaii Family Business Center and the Honolulu Community College Department of Aeronautics. In 2017 she was a recipient of Pacific Business News "Women Who Mean Business" award.
We provide immediate and effective solutions with minimal impact on operations so you can achieve your objectives. We are a trusted source by our first line of defense, meaning integrity and reliability.
We modernize safety — air, land, sea.
Goldwings Supply Service, Inc. began when Frank Young returned to Hawaii from his job at United Airlines as an Aircraft Mechanic in San Francisco, CA. Prior to this, he served in the US Air Force, competing on the USAF volleyball team and received a degree at Golden Gate University. He started Goldwings as an aircraft parts supply house in 1987. As visionaries do, Frank formed the company as Women-Owned, before "WOSB" was a certification. His wife and daughters were original shareholders, making up 51% of the majority stake.
In the early 90s the business retained clients such as Aloha Airlines, Hawaiian Airlines and local startups Mahalo, HATS, Genavco servicing every commercial and general aviation aircraft in the Pacific. It was a great time for aviation and the business expanded into airfield lighting. Customers included State airports, which added military airfields and mid-pacific port authorities throughout the Republic of Marshall Islands, Federated States of Micronesia, Guam and the Commonwealth of the Northern Marianas Islands. During this period his daughter Lia assumed a secondary role having graduated with a business degree, aircraft mechanic's license, and pilot's license.  She would balance her role as Office Manager with her pro beach volleyball career.
The new millennium brought diversity with the addition of Aviation renewables, which would expand to Traffic, Obstruction and Outdoor Lighting. The company also added Pavement Preservation, specifically targeted at Airfield pavement maintenance and scripted the first pavement preservation program at Kaneohe MCAS in 2007. This same year Lia formally assumed the responsibility of Strategic Development Officer, taking the company through one of the worse economic periods in our nation's history. Under Lia's leadership and Frank's guidance,  the company remained intact and in 2015 Lia became the majority shareholder and President.
Til this day, a sense of place is one of the most vital components to our organization. Each employee is considered family and cultural traditions passed on by our kupuna (elders) have become unspoken bylaws. This commitment to a sense of place transcends each opportunity to serve a customer and elevate a community. With each decision and interaction, we are mindful to manage with Aloha, to be Pono. Pono is the personal and organizational value of rightness and balance. It is with Hawaiian values that we conduct the art of business, delivering the art of the possible.
Mahalo nui loa, me ke aloha pumehana