At Goldwings, taking care of our communities is the way we do business. It is with Hawaiian values that we conduct the art of business, delivering the art of the possible, and these values guide our commitment to giving back to our islands.
Our team actively supports impactful community programs, including the YWCA Enterprising Women of Color Business Center and the University of Hawai'i Family Business Center, as well as mentorship, alumni and veterans groups.
Our core community programs include:
Olomana School: Goldwings has been instrumental in helping create a roadmap for this Kailua alternative-education intermediate and high school to address vulnerabilities and needs to best serve students. Most recently, we partnered with the Hawaii Foodbank to create a successful meal program. As many as 50 five-pound bags of nonperishable food items have been distributed to students each week, as well as snacks. Goldwings has also been an active supporter of workforce development activities, partnerships and speaking opportunities to enhance the school's curriculum around trade and aviation careers.
Climate Coalition Pledge: Goldwings has joined other Hawai'i businesses and organizations in signing the Hawai'i Executive Collaborative Climate Coalition Pledge. This pledge demonstrates an ongoing commitment to meaningful climate and resiliency action. We commit to take actions within our organization to reduce emissions and increase our resiliency, and to leverage our collective capacities to support an equitable transition to a climate resilient economy, society, and environment for all Hawaiʻi's people.
Aviation Work-Study Program: Goldwings launched its Kaulele (to take flight) work-study program in 2021 to provide opportunities for students interested in aviation careers. Students can learn from Goldwings mentors as they study for their pilot's license or other aviation career.
This program offers flexible hours at Goldwings' south ramp location alongside the aviation team, with more than 100 years combined aviation experience.
Paisley Young, a graduate of St. Andrew's Priory, started the Goldwings work-study program in 2022 and is enrolled in the Aeronautics Maintenance Technology (AERO) program at Honolulu Community College. Born and raised in Hawaii, Paisley developed a passion for hands-on projects by working on cars with her family.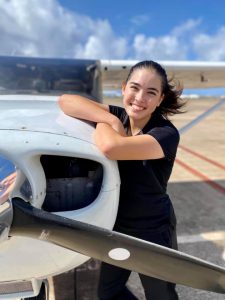 Abigail Dang, the program's first student, completed her work-study in 2021. Born and raised in Hawaii, Abigail is working as a flight instructor at Kalaeloa as she plans to complete her bachelor's degree and enlist in the Hawaii Air National Guard.