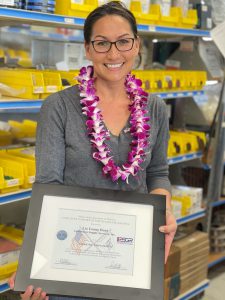 Lia Young Hunt, Goldwings Supply Service, Inc.'s (GSSI) President and Chief Educational Officer, was nominated and selected for the Patriot Award from ESGR (Employer Support of the Guard and Reserve). ESGR, a Department of Defense program, was established in 1972 to promote cooperation and understanding between Reserve Component Service members and their civilian employers and to assist in the resolution of conflicts arising from an employee's military commitment. GSSI is an employer to 3 military families and has shown its support and dedication to employees and families serving in the National Guard and Reserve.
The Patriot Award was presented to Lia this past week at GSSI's Honolulu International Airport Hardware Retail location.
"I share this with everyone here, as it takes a collective effort to fruit true success, transform the lives of our clients, their organizations and our communities. We have lofty goals and they can't be brought to reality without a team… Our military families are often overlooked for their sacrifice and the generational impact that is the result of serving our country. We are honored that you choose to work and share your lives with us at Goldwings," said Lia Young Hunt.