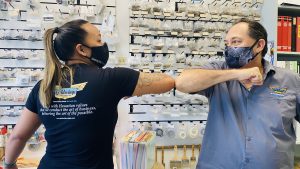 CONTACT INFO
(808) 833-6020
Honolulu International Airport
134 Nakolo Place, Suite 101
Honolulu, HI 96819
sales@goldwings-supply.com
OPERATING HOURS: Aeronautical Parts Store Operating Hours Mon-Fri 8am-3pm
ABOUT
Goldwings Supply Service, Inc. (GSSI)  has been serving and supporting Hawaii's aviation industry for more than 30 years. It's one of the longest running kamaʻaina businesses at Honolulu International Airport's South Ramp, and it's the only aeronautical parts store in the Pacific.
We sell aviation parts- everything from the nuts and bolts for airplanes, petroleums and lubricants, tools and hardware supporting general and commercial aviation communities including air ambulance and angel flights. We also provide technical support for airfield lighting and navigational aids for all DOT and Military airports throughout Hawaii and INDOPACOM, with DoD airfield lighting contracts spanning the globe.
Our team is known for their welcoming and helpful customer service, knowledge and understanding of aviation specs, and reliability. Give us a call- let us know how we can support your aeronautical needs.